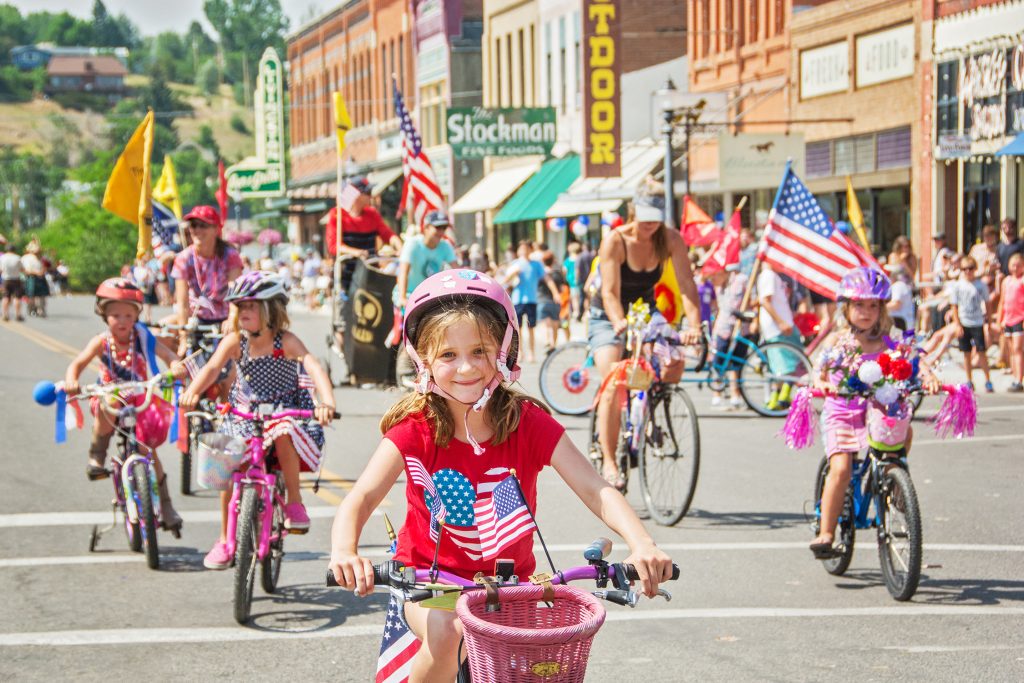 Photo, Kyra Ames
In Yellowstone Country, we're fortunate to have plenty of open spaces—there's well more than six feet of elbow room! As such, some areas are still holding Independence Day activities. It may look a little different than years past, but the spirit is the same.
Montana is a beautiful place, with miles of public lands. Our residents are a resilient, reliable, and happy lot who look out for one another. We have a lot to celebrate.
We invite you to join us. But please, know the public health guidelines before arriving at your destination. Stay home if you are sick, and understand that some services and destinations may be limited.
West Yellowstone
The celebration lasts all day, Saturday, July 4, 2020! Start with Pie on the Porch, followed by the Farmers Market, Parade, Wild West Rodeo and Fireworks!
July 4, 2020
Pie on the Porch
1:00 p.m., Museum of the Yellowstone
Farmers Market
5:00-8:00 p.m.: Museum lawn, corner of Canyon Street and Yellowstone Avenue
Parade
6:00 p.m.: (printable route map
click here
)
Wild West Yellowstone Rodeo
8:00 p.m.: Rodeo grounds west of town
Fireworks
10:15 p.m. Suggested parking on Iris Ave or the Old Airport/80 acres located on the west edge of town off of Highway 20.
Big Sky
July 4, 2020
4th Annual Artisan Festival
9:00 a.m.-5:00 p.m., Meadow Village
Featuring over 40 artists, this festival is a lovely way to get out, safely enjoy the community and celebrate the talent inspired by Montana's big skies.
Livingston
July 2, 2020
Virtual Parade
9:00 p.m. Park County Fairgrounds and Facebook Live @livingstonareachamber.
Watch a video collection of the past 30 years of parades in Livingston! Decorate your car and join the procession down Main Street to the film.
July 3, 2020
Drive in Theater, featuring "Sandlot"
9:00 p.m.
The Shane Center
July 4, 2020
Fireworks
10:00 p.m.
Park County Fairgrounds
Cooke City
Tucked up between Yellowstone National Park and the Beartooth Highway, Cooke City is a mountain town like no other. If you can time your trip right, it would be a joy to spend your day with this community.
July 4, 2020
Parade
10:00 a.m.
Fireman's Picnic
11:00 a.m.
Kid's Games
2:00 p.m.
Fireworks at Dark
Red Lodge
July 4, 2020
Red Lodge has social distancing figured out! From 11:00 a.m. to 10:00 p.m., on Saturday, stores, restaurants, and bars can utilize the sidewalk and street to extend their businesses' service area. Broadway Avenue will become a walking mall, closed to traffic from 9th-14th Streets. In other words, there's room for everyone to enjoy all of Red Lodge! #travelresponsibly
Fireworks
10:00 p.m.